If you are planning a trip to Ireland this year, there are a variety of great places to visit depending on what interests you the most. The land will enchant fans of history, mythology, and ancient legend. Ireland has a beautiful and rich history that connects much of its mythology to the physical land, so wherever you go will be steeped in something powerful that you won't necessarily be able to explain, but it will be something well worth seeing. Ireland is a well-known tourist destination that attracts visitors from all over the world. Because Ireland is not recognized for being handicap-friendly, with many historical buildings lacking wheelchair accessibility, travelers with mobility issues or disabilities are advised to travel luggage free. Brits traveling within the United Kingdom by train or plane frequently hire local companies to transport their luggage directly to their hotel from their home, allowing them to travel with only a carry-on bag. What few people realize is that these services are available worldwide, which means that US visitors to Ireland, or any other part of the United Kingdom, can make an internet reservation to have their baggage picked up from their home and delivered directly to their UK destination. These services have made Ireland, particularly rural areas, more accessible to travelers with disabilities, but they are not exclusively used by impaired travelers. When transportation is simplified without the need to carry bags, everyone benefits from a less stressful vacation, especially the elderly and families with young children.
In this article we will highlight some of the most popular destinations in Ireland, all accessible for people in wheelchairs. Carry on reading to find out more.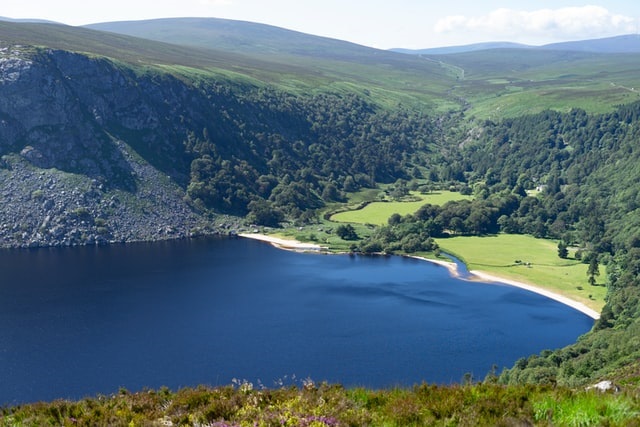 1. Six Attractions At The Giant's Causeway
Giant's Causeway – a UNESCO heritage site at the northeastern tip of the country. It is an area that consists of over 40,000 interlocking Basalt columns. These columns take on a stunning geometric shape each perfectly fused with the column next to it. They were created from ancient volcanic eruptions but if you didn't have that knowledge you might truly believe that they were man-made because of the precision with which the columns create perfect geometric towers,
Giant's Boots – In Port Noffer, there is a small path that leads to the sea. This leads to the Giant's Boot, which is perhaps the bay's most famous feature. The boot, which was apparently lost by Finn as he fled the wrath of the Scottish giant Benandonner, is said to be a size 93.5! It's also the ideal place to take a socially distant, giant step apart, at just over 2 metres.
Wishing Chair – Take a seat in the famous Wishing Chair. The Wishing Chair is a natural throne formed from a perfectly arranged set of columns that is a must-see on any visit. Originally only ladies were allowed to sit in the Wishing Chair a few years ago. It is now open to the public. In fact, it has been sat on so many times that its basalt stones are gleaming, smooth, and extremely comfortable.
The Camel – Finn McCool's camel is the most famous resident of Portnaboe. The camel, once a living and lively beast, has now been turned into a stone statue and lies at the base of the cliffs. The camel is a basaltic dyke formed by cooling lava.
Clifftop Trails – Take a birds-eye view of the Giant's Causeway from the clifftop trails. You can explore the stunning north coast of Ireland, This trail has red, blue, green and yellow marking the different trails to choose from.
Visitors Centre – Giant's Causeway visitors centre was opened in 2012 as a result of an international architecture competition and is fully accessible for people in wheelchairs. The structure has received numerous prestigious awards for design innovation and sustainability.
2. Newgrange – World Heritage Site
Newgrange is an ancient tomb, one that spans across multiple acres and is covered in verdant greenery with a single entrance that leads straight back into the respective burial chambers. There are 97 large stones called kerbstones around the outside of the large circular burial chamber which have been engraved by hand with megalithic art. Once a year during the solstice, the sun will rise and filter directly through the entrance until it fills the entire chamber with white, a truly mesmerizing experience. It is unlikely that you will be able to get tickets as it is run on a lottery system however, the nearby Travel Center located at the site has a recreation of the tomb with a light show that does the same thing so that you get to experience the majesty of it all no matter when you visit. There are actually three such burial tombs from the same timeframe located on this property. Newgrange is the most well excavated and most popular. One other you can only visit with a tour much like Newgrange and the third, the least excavated you can drive to but you can't enter. The chamber is not accessible to wheelchairs but the replica of the chamber at the visitors center is.
3. Guinness Storehouse
No trip to Ireland would be complete without a tour of the Guinness Storehouse where you can learn the rich history of the most iconic beer throughout Ireland. The emblem of Guinness beer is that of Dagda's harp, one of the most famous and Powerful of Celtic gods, almost a Celtic iteration of Zeus. They offer multiple tastings, tours, and a chance to sit at the rooftop bar and enjoy the scenery. The rooftop bar is a disc-shaped cylinder with glass all the way around so you can enjoy an endless view of the city below. The building has lifts to facilitate access for wheelchair users.
You can add more beautiful scenery to your list by visiting the Cliffs of Moher, the Ring of Kerry, Atlantic Way, or Killarney National Park.
You can head to the Blarney Castle and Gardens where you will find the Blarney Stone. The Blarney Castle was built over 600 years ago by Cormac MacCarthy and served as the medieval stronghold for the area although today it serves as a beautiful historical site. Nearby you will find the Blarney Stone, a piece of limestone that was constructed into the battlements of this castle. Legend has it that those who kissed the stone would be given the gift of the gab, but please avoid kissing the stone during your visit for sanitary purposes.
If you are a fan of castles and historical points of interest you can also visit Kilkenny Castle which has one of the longest histories of regular, uninterrupted occupation in Ireland. It was built in the year 1192 with beautiful gardens and grounds open to the public.
Wherever you go in Ireland, you will be greeted by beautiful scenery, friendly people, and welcoming culture. In this post, we've highlighted some of Ireland's most popular tourist attractions that you should visit on your next trip to the Emerald Isle.