Riding gravel and singletrack trails while enjoying the comfort of hut life and house-cooked meals.
Written by Ryan Salm Aquarius Trail   |  Ryan Salm – Original article posted on visitutah.com
After so much time spent staring at screens and dreaming about the future, the idea of hopping on a brand-new bike route seemed like a figment of my wildest imagination. Having spent the last 25 years putting together the puzzle pieces of the Southern Utah landscape, there was a swath of land north of Bryce Canyon National Park that for me remained unexplored. Although it always stood towering in the distance, I hadn't yet found the right reason to investigate it further.
As fortune would have it, a chance run-in, months of planning and a good crew all came to gether in October 2020. The result was a one-of-a-kind, two-wheeled journey across the Aquarius Plateau.
The smoke from forest fires was thick as Kyle Smaine and I rolled across the Great Basin en route to Brian Head. The smoke had been inhibiting my breathing and exercise regiment, which is why we were relieved to find our starting point above the resort in an island of blue sky, above a sea of haze.
Every so often you run into the right person at the right time. I had met Jared Fisher, CEO of the Las Vegas-based Escape Adventures, on a photoshoot in California. While conversing about our mutual love for Southern Utah, he informed me of plans for a brand new hut-to-hut bike route that was in the works. (Read: "Three Utah Bikepacking Routes for Beginners to Intermediates")
After countless email inquiries, Fisher told me he and his team had put the final touches on their project. Our crew of Kyle Smaine, Whit Boucher and Ashli Lewis were about to get the maiden voyage on the Aquarius Trail System.
Hoping to leave all of our pent-up, socially distant emotions behind, Smaine and I arrived a day early. Ten minutes after parking, we stretched our legs and quickly transformed from road warriors into mountain bikers and grabbed a shuttle at Georg's Ski Shop.
Nothing clears the cobwebs of life on the road better than riding one of Brian Head's 100 miles of downhill trails. In our case, it was the Blow Hard Trail, a local favorite. (Read: "A Quick and Dirty Guide to Brian Head Area Mountain Biking")
With a kaleidoscope of color displayed in both the autumn leaves and the ever-changing geology, we were elated to descend the 10 miles of Blow Hard's fast, technical and flowy downhill.
After a crisp night's sleep in a golden grove of aspen, it was time for the main event: five days in the saddle on the inaugural public run of the 170-mile Aquarius Trail.
"Nothing clears the cobwebs of life on the road better than riding one of Brian Head's 100 miles of downhill trails."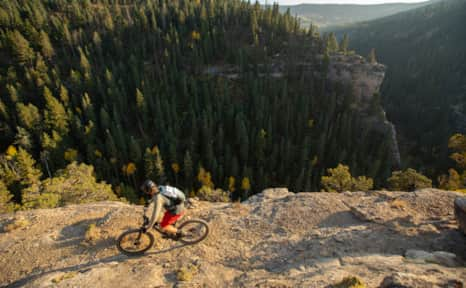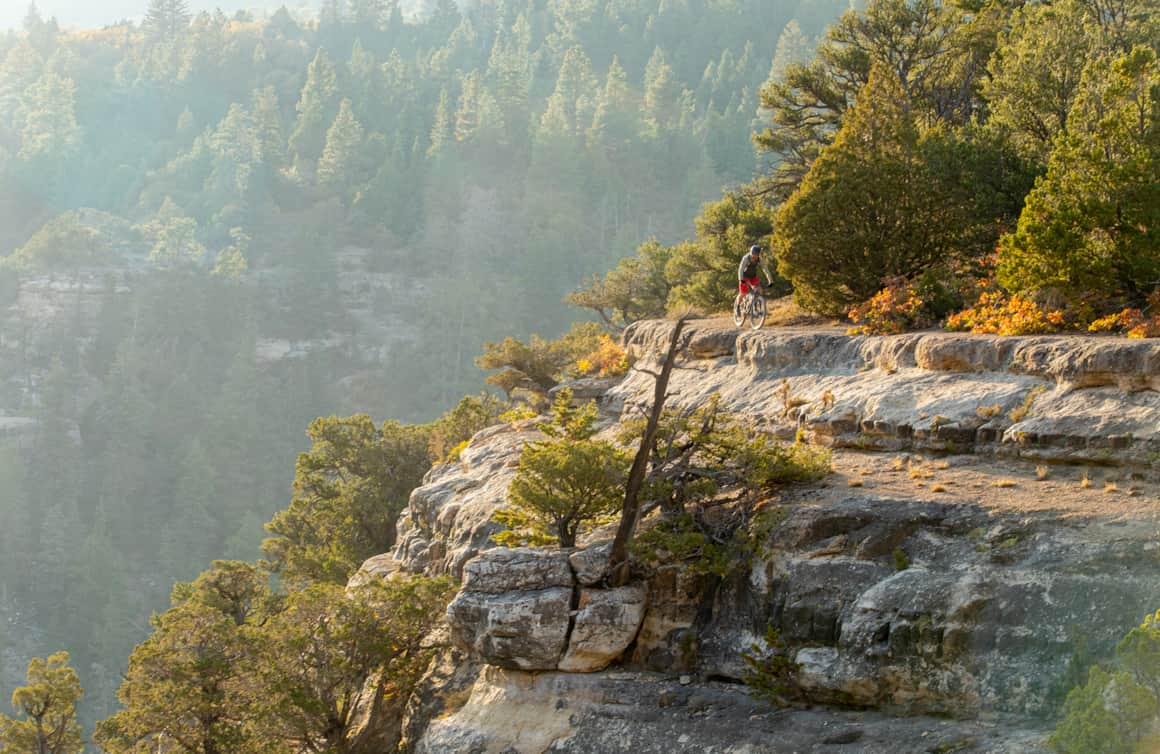 History
In 1990, Jared Fisher ran a bike tour from Brian Head to Lake Powell's Bullfrog Marina. The Brian and the Bullfrog tour was revered by clients because of the sheer diversity of ecosystems covered over the course of one ride.
"For years we envisioned a tour similar to this, with the addition of comfortable backcountry lodging," Fisher says. "In 2015, with the help of the tourism board and local counties, the Aquarius Trail and Hut system came to fruition."
The Ride
Heading across alpine terrain, we pedaled upward to Bunker Hill to start our journey. Topping out at 11,300 feet, the Southern Utah landscape dropped away 3,000 feet into the valley below. Limbs of trees from the 2017 Brian Head Fire whizzed by our periphery. Despite the destruction caused by the fire, we were inspired to see seedlings and colorful flora emerging through the blackened ground.
The first day's ride was right in our "love for mountain biking" wheelhouse — long, rocky trails with serpentine berms and beautiful scenery. The day's final third culminated in an aspen-laden double track and aimed us onward toward gravel and tarmac.
Location
Towering high above the northern edge of Utah's Grand Staircase, the Aquarius Plateau traverses more than 100 miles and includes some 50,000 acres of rolling terrain above 11,000 feet, making it the highest-timbered plateau in North America.
It was a journey of long sustained climbs and dusty descents through desert, forest and wide open meadows. With pinyon pine and juniper forests thriving at the plateau's lowest elevations, the landscape quickly morphed into ponderosa pine forests at middle elevations and a combination of dense aspen, spruce and fir forests at its highest elevations.
"Towering high above the northern edge of Utah's Grand Staircase, the Aquarius Plateau traverses more than 100 miles and includes some 50,000 acres of rolling terrain above 11,000 feet."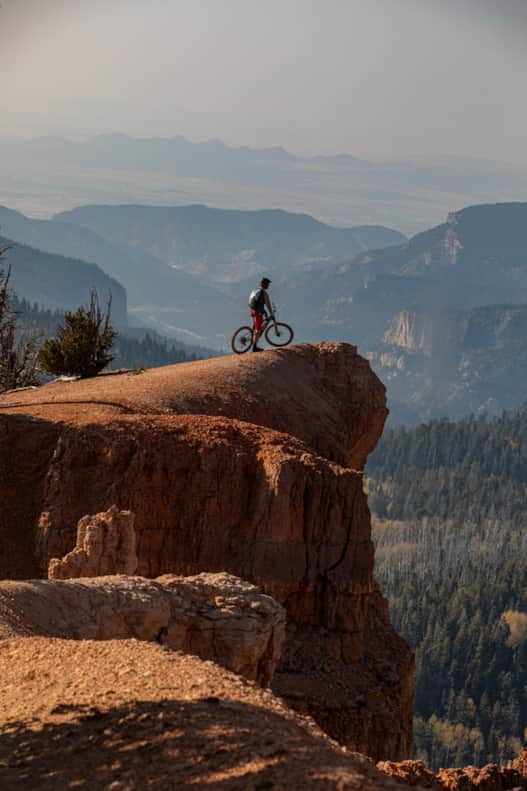 Route
Based on the diversity of beautiful terrain along Fisher's original Brian and the Bullfrog route, Escape Adventures decided that this would be the rough outline of the Aquarius Hut System. The six-day, five-night hut-to-hut through-ride combines the initial sections of cross-country and technical single-track with double-track and tarmac to Bryce Canyon National Park.
From there, the journey leads across the Aquarius Plateau and on to Escalante, making it a truly unique hybrid ride. With days averaging between 35 to 40 miles and with more than 3,500 feet of elevation gain, it's not for the faint of heart.
Our crew juggled the ups and downs of this long-distance ride while at times wondering if a hardtail bike wasn't the best option. We thrived on the single-track but felt the challenge of grinding out large sections of existing ATV trails and double track connecting each of the five huts along the trail.
Technically speaking, the route isn't difficult, but the long swaths of gravel at high elevation often took its toll. The importance of fitness and positivity became apparent as mornings quickly morphed into late afternoons. It was a case of one pedal stroke after another until each day's mileage was complete. (Read: "Visions of Grandeur: Heaven and Hell on Two Wheels")
Despite the long days, the reward at the end of each day's rides were the huts. The Hatch, Butch Cassidy, Pine Lake, Aquarius and Hell's Backbone huts were perfectly situated right where we needed them. Each was packed to the gills with snacks, food, drinks and even a cold beer or two.
It's amazing the sheer caloric intake we consumed after each 35-plus mile rides each day. Lacroix, regenerating fluids, beer, chips and salsa, Cheetos, Doritos, guacamole, more beer, Otter Pops (blue one for me), beef tacos times four, pickles and s'mores — in that order, all eaten over two hours.
Hammocks, bunk beds and heaters created an oasis to watch the setting sun and drift off to sleep. Propane stoves and gas barbecue grills allowed us to experience the comforts of home while staying in the backcountry. Every night, we rotated preparing group dinners, with someone playing chef while the others prepped and relaxed. It was the perfect respite from the solidarity of eating at home during the pandemic.
We spent our evenings sitting under the stars around the hut's propane fire pit. The dancing flames became the perfect place to share travel vibes that had recently felt like a thing of the past.
Huts
The elements that became paramount for Escape Adventures when building out each of the five huts: keep it green at a good price point while using easily available materials. In the end, decommissioned shipping containers were the answer. Their weight proved both stable and environmentally sensitive, as they didn't require a laid foundation.
"It worked out well to use a bear proof, incredibly strong recycled box that we could turn into a sleeping unit and kitchen unit," Fisher says.
Off-the-grid generally refers to an absence of electricity. One of the most unique attributes of the Aquarius Hut System is solar power. With a history of running a green company, Escape Adventures were educated in this area. Their 2kW-plus system uses batteries recycled from hotels on the Las Vegas strip to power refrigerators in each hut and, in some cases, satellite service, so visitors could have access to the outside world if needed.
"I think everybody can appreciate the fact that we don't have power lines going to our locations," Fisher says. "Nothing had to be dug up or disturbed, yet we still provide those essentials that people have become accustomed to in the 21st-century with their internet connection and ice cold beer."
"Off-the-grid generally refers to an absence of electricity. One of the most unique attributes of the Aquarius Hut System is solar power."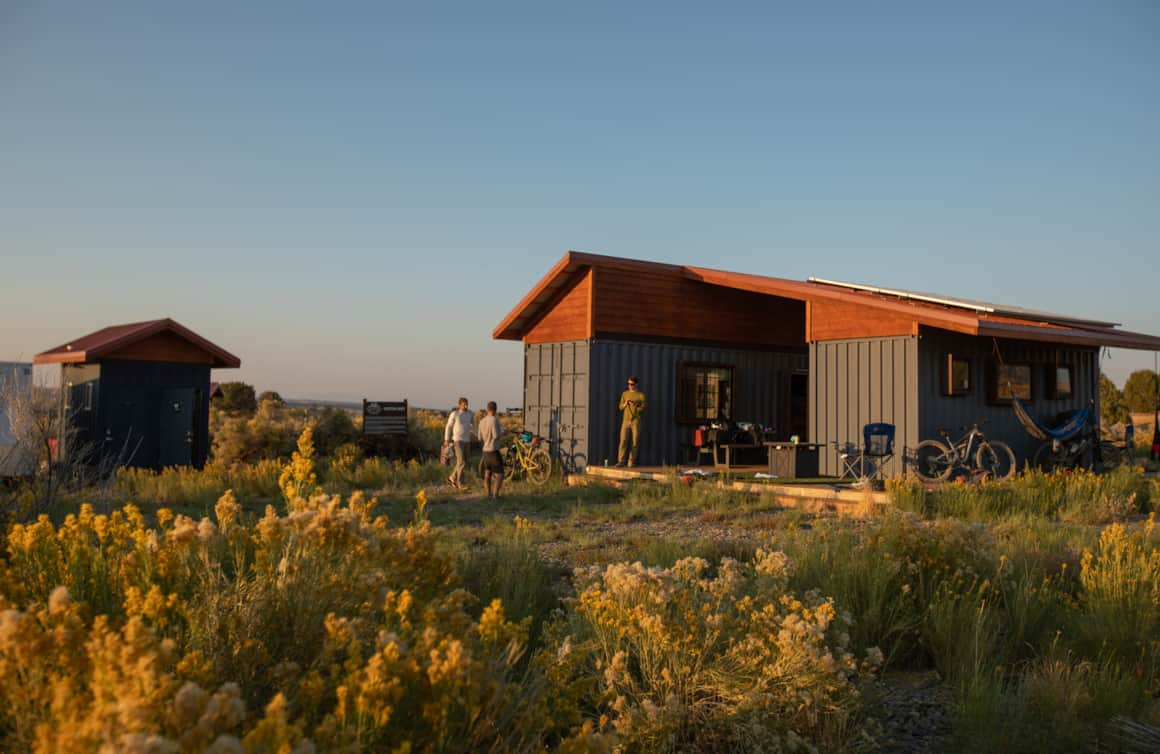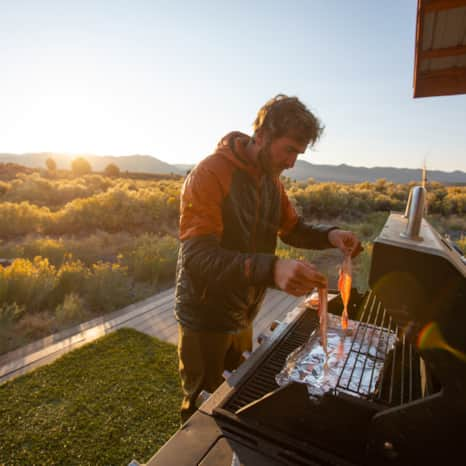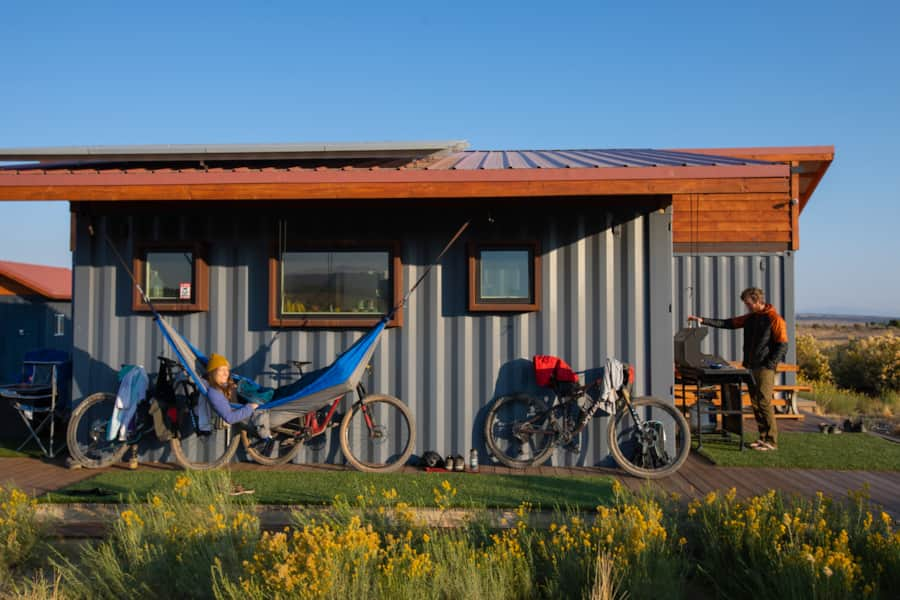 Route Continued
Scattered among the the long, lonely valleys and wooded, windy backroads were a few perfectly placed trip highlights.
Stunned and frazzled, I hopped off the top bunk on the morning of Day 3. I didn't hear the alarm but before I knew it, I was packing my pre-made breakfast and lunch and peddling into the dawn. A sting of cold air on the exposed skin of my hands woke me up as I headed from the Butch Cassidy Hut to the famed Thunder Mountain Trail.
Kyle, Whit and I were chasing an elusive sunrise that rose and fell between each dip in the vermillion-colored formations. When we finally reached a summit of sorts, beams of sunlight ignited a collection of spines and hoodoos. My fatigue quickly faded as we dipped down and across the eroded geology of crimson and rusted orange through some of the most beautiful landscapes in the American West.
With the idea of the Aquarius Trail being a self-guided adventure, each day's route was available on a GPS app. Knowing that our next few days would be long stretches of gravel, we decided to test out an eight-mile single-track connector. Though in full agreement that we were in for a hot, arduous "sufferfest," Kyle, Whit and I followed a hoof- and paw-print scattered trail that wound through Rich and Cassidy canyons. Sweating and physically worked, my soul was satisfied by the day's adventure.
While we spent a lot of time thinking about our love for single-track, the truth was that the majority of the Aquarius Trail miles were double-track and gravel. My lack of training and experience on long sustained climbs set in. And on a few occasions I felt that maybe I wasn't the target audience for this trip.
After a brief meltdown around sunset on Day 3, something clicked. Maybe it was the golden aspens lining the dirt road or maybe it was the soft murmur of Clay Creek, but as I pedaled that morning by myself I was revived.
Before I noticed the pain of the elevation gain, the climb was in my rear view. At an optional side trail, I reunited with the crew. After riding out the ridge, a narrow trail led to a staggering perch on Powell Point.
The day didn't get easier, but my attitude toward perseverance shifted. Instead of dwelling on the pain, I lost myself in the staggering expanse of life above 9,500 feet. For the next two days we pedaled the Aquarius Plateau, a spectacular place to ride with not a sound except for the rotation of our tires, the lone bugle of an elk or the call of a hawk.
"My fatigue quickly faded as we dipped down and across the eroded geology of crimson and rusted orange through some of the most beautiful landscapes in the American West. "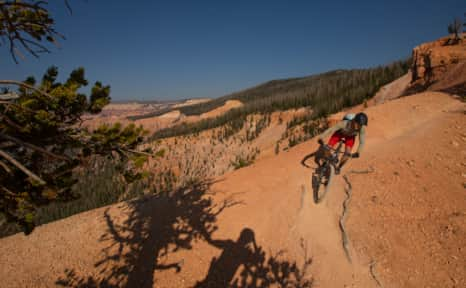 Multi-Use Approach
While riding the entire hut-to-hut route from beginning to end, unsupported, is not a family-friendly ride, Escape Adventures offers a multitude of options. Though a self-guided or fully guided trip is a great way to bike across the Aquarius Plateau, Escape Adventures welcomes everyone to their backcountry hotels with a two-night stay. The huts can be used to access Bryce Canyon National Park or Pine Lake. Weekend warriors, horse-packers and those seeking a unique outdoor experience are welcome.
For bikepackers, an important factor is managing the variety of skill sets in any given group. That's why an alternative e-bike route was created so all can enjoy the route. The huts are situated at a perfect distance to make sure that e-bikes have more than enough life to make it to the generator at the next hut.
Final Thoughts
On our final day, we pedaled our way to the edge of the plateau and dropped into a speedy descent. The aspens were peaking as we wound down past Posy Lake, alongside the labyrinthine Box-Death Hollow Wilderness and past the farmland along the outskirts of Escalante.
Like all adventures, the key is adaptation. While at times taken back by the enormity of road riding, we came to the conclusion that we were better off enjoying the ride. While driving back on Route 12 from Escalante Outfitters to Brian Head, I found myself smiling. Son Volt's "Windfall" came on my headphones with the lyrics, "May the wind take your troubles away." It struck me as a telling line considering contemporary issues — virus, fires and social injustice among them. It also made me consider how petty my days of difficulty on the trail were — especially as those are some of my best memories from a difficult year on planet earth.