Posted on Tripadvisor
By Avital AndrewsJul 20, 2021
Imagine splashing down an icy whitewater river as you pass a sharp-horned herd of bison, riding horseback through grizzly country, or hiking past boiling-acid hot springs. If that sounds like fun, you just might be a thrill-seeker, and at Yellowstone National Park you'll have plenty of company.
This park calls people from around the world to experience not only its beauty but also its challenges. Here are just some of the local activities suited to the most adventurous visitors, and tips to take them on.
Get wet: White-water rafting in Yellowstone
The Yellowstone area boasts several popular waterways for rafting. There's the Yellowstone River, of course, but also the Gallatin, Shoshone, Madison, Boiling, and Snake rivers, whose legendary rapids include Big Kahuna, Lunch Counter, and Cottonwood.
Many of Yellowstone's rapids are rated Class II or III. (Class III is considered moderate.) That means adventure-seekers can charge into the waters—but they can also bring along their less-than-daredevil family members. These paddles offer resplendent scenery comprised of cliffs, gorges, and mountain ranges. Those looking for a particularly thrilling segment can seek out Yankee Jim Canyon on the Yellowstone River, or the Gallatin River's Mad Mile, just past the Lava Lake trailhead.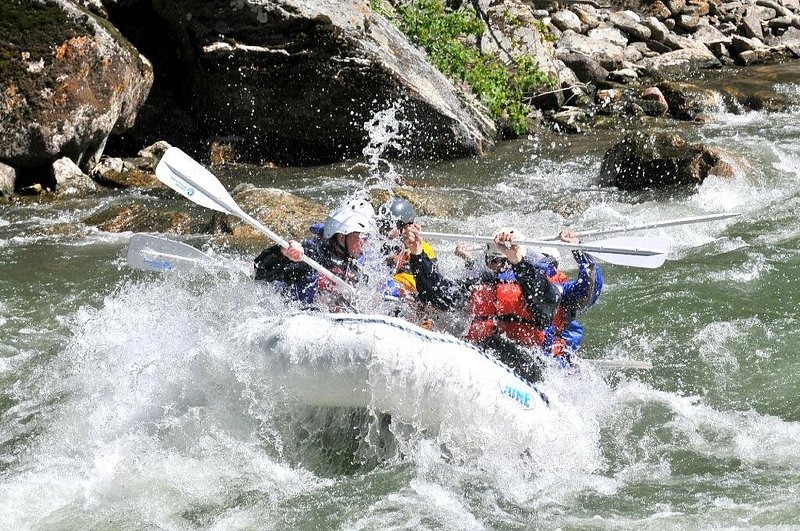 Local outfitters offer guided Yellowstone rafting tours that range from two hours to multiple days. Geyser Whitewater Expeditions operates in West Yellowstone, Montana Whitewater in Gardiner, and Jackson Hole Whitewater and Sands Whitewater both run on the Snake River. Not far outside of the park, Wild West Rafting, Flying Pig, and Yellowstone Raft Co. also offer guided floats.
One helpful tip: To experience the most exciting rapids, time your visit to coincide with early-season snowmelt.
Get Western: Horseback riding in Yellowstone
From Wild West pioneer times to the modern day, this region has a long, storied history of riding steeds through the land. They're still used today in part because riding a horse is one of the best ways to get near shy wildlife without scaring them away with motorized vehicles. Horseback rides can be short and originate in town or they can take place in the backcountry and cover multiple days.
This idyllic open-air activity is offered several places in and around the park. At Roosevelt Lodge, the wranglers tell entertaining, educational stories about the area, and your ride ends with a cowboy-themed chuckwagon dinner. Yellowstone Lodge offers tours that trot through wooded forest, as does West Yellowstone's Diamond P Ranch and Gardiner's Flying Pig Adventure Co. At the Bill Cody Guest Ranch, you can book a mountaintop lunch ride featuring flame-grilled burgers. And Togwotee Mountain Lodge has an onsite corral and easy access to scenic mountain trails.
Many of the area's dude and guest ranches offer their own riding experiences, as do more than two dozen licensed outfitters. You can also bring your own stock animals into Yellowstone, as long as you follow NPS rules and obtain a riding permit.
Get speedy: Ziplining in Yellowstone
Any ziplining superfan will tell you there's nothing like whirring through the air as your body sweeps through open terrain. And those superfans are in luck, because there are several ziplining options within throwing distance of Yellowstone.
Montana Whitewater offers a series of excursions that pair ziplining across the Gallatin river with traversing wobbly rope "adventure bridges" and two hours of rafting. Yellowstone Aerial Adventures has an elaborate adventure course to test your mettle and includes an urban zipline. Over at Big Sky Resort, a perfect jumping-off point into Yellowstone, their two mountain zipline courses include the longest one in the region.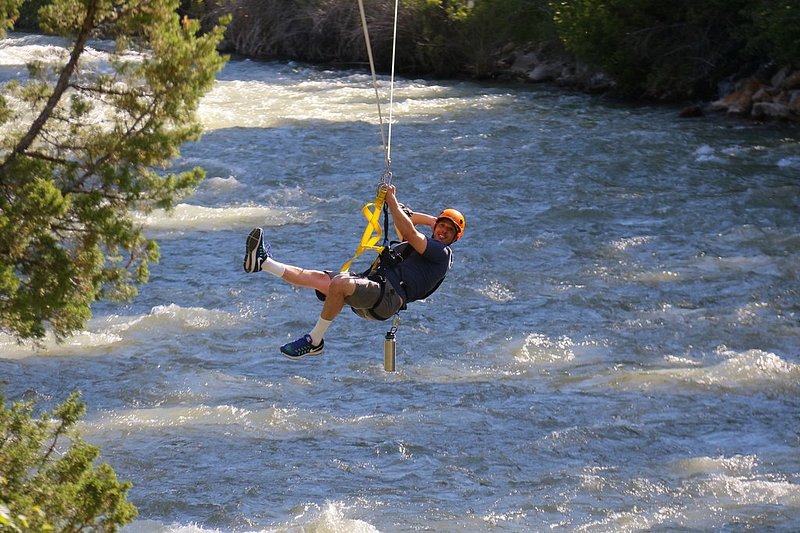 At Idaho's Lava Zipline, thousands of feet of steel cables run across a private canyon—plus, for the bravest visitors, there's a (very) high ropes course and a geodesic dome. (Lava is a three-hour drive south of West Yellowstone, but if you're driving up to Yellowstone via Salt Lake City, you pass right through it.)
Get wild: Safari in Yellowstone
Yellowstone is one of Earth's prime places to take a wildlife tour, especially if you want to see grizzlies or wolves. For those on creature quests, there are plenty of safari-like options to choose from.
Wildlife Expeditions is Yellowstone's original wildlife tour company, grounded in an educational science-based approach. Their knowledgeable guides are experts at spotting animals, and you'll be provided with binoculars and scopes for zooming in on distant creatures.
Black Tomato runs private tours that include canvas-tented glamping, naturalist-led outings, geologists, and Native American storytellers who teach Yellowstone's natural and human history, and astronomers who lead stargazing with in-camp telescopes.
Out in Yellowstone's wilderness, you might glimpse wolves, grizzlies, moose, antelopes, otters, eagles, marmots, calliope hummingbirds, and, of course, bison. But if you want guaranteed sightings of free-roaming bears, elk, and bison, head to Yellowstone Bear World, a drive-through wildlife park 90 miles from the West Yellowstone entrance, where you can bottle-feed cubs and roam the acre-wide petting zoo. You can also check-in at Grizzly and Wolf Discovery Center to learn about Yellowstone's apex predators in a safe, humane environment.
Get out: Hikes in Yellowstone
Adventure seekers crave challenging hikes and scrambles, and Yellowstone delivers, with trails of all degrees of ruggedness, for all skill levels.
For serious climbers, Big Sky Resort offers the Lone Peak Expedition, a guided journey to Lone Peak's 11,166-foot summit, where you'll see into three states (Montana, Wyoming, and Idaho) and two national parks (Yellowstone and Grand Teton).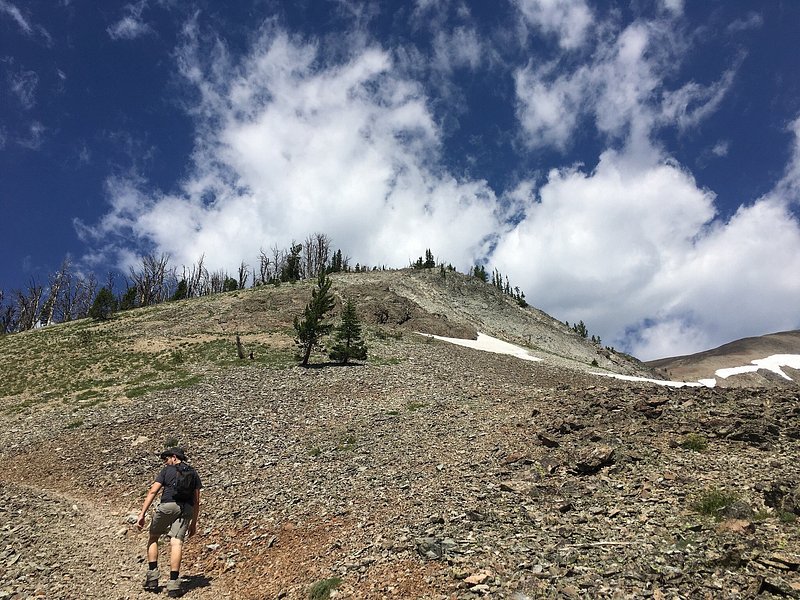 Looking to get out without a guide? Experienced hikers can lead themselves to Mount Washburn's summit, gaining 1,500 feet to see the Grand Tetons from the top, or opt for the rocky five-mile Avalanche Peak Trail, which gains more than 2,000 feet and requires a scramble toward the top. Still need more? The rocky Seven-Mile Hole Trail is actually about 10 miles, despite its name, and packs a 2,000-foot elevation gain, while the 20-mile hike out and back to Electric Peak gains more than 5,200 difficult but rewarding feet and offers stunning views of several mountain ranges from the top.
Not everybody needs a brutal leg workout, though. If backcountry geysers and solitude are more your jam than heart-raising peaks, hike to Shoshone Geyser or Lone Star Geyser. For a long but minimally challenging hike, take the Lamar River Valley trail near Soda Butte for a chance to spot bison herds, elk, and grizzlies. Uncle Tom's Trail lets you scale the Grand Canyon of the Yellowstone from the brink of Lower Falls to the base via steep, latticed stairs—not exactly terrain for those with acrophobia.
Advanced hikers can consider the 17-mile Specimen Ridge, which gains 3,000 feet of elevation toward expansive valley views, and requires you to ford the Lamar River (check conditions first) and summit the 9,600-foot Amethyst Mountain.
Get spinning: Biking in Yellowstone
Looking for some of Yellowstone's best bike trails? Before you start pedaling, read and follow the park's rules of the road, including wearing appropriate safety gear and keeping bikes off backcountry trails and boardwalks.
All set? We hope you brought your mountain bike. In Mammoth Hot Springs, consider the Bunsen Peak Loop, a nine-mile trail with a solid down and uphill and a few steep drop-offs. Abandoned Railroad Bed Trail, on the other hand, is a pretty flat ride paralleling the Yellowstone River with Electric Peak in the distance.
In West Yellowstone, the Riverside Bike Trail will take you to the shores of the Madison River. And near Old Faithful, the Lone Star Geyser Dirt Trail takes cyclists up close to Lone Star Geyser's 30-foot eruptions that happen every three hours.
However, most trails in Yellowstone aren't bike-friendly, and road bikers won't find any paved bike paths to speak of. Biking is allowed on park roads, but they can be dangerous during the busiest seasons. Consider going outside the park if you want to ride. Near the West Yellowstone entrance, Grand Targhee Bike Park provides bike trails for every level, plus 2,000 vertical feet of lift-serviced biking slopes.
Or join a guided group tour. Escape Adventures hosts a smooth, scenic mountain biking tour that can stretch from 12 to 25 miles. It launches from Jackson, Wyoming, and traverses Grand Teton National Park and the greater Yellowstone ecosystem, letting cyclists see wildlife up close and vehicle-free, including moose, wolf, bison, and elk.
Tip: For a short period every spring, bicyclists are allowed on 49 miles of park roads from the West Entrance to Mammoth Hot Springs when the roads are plowed but not yet open to cars. For road status, check Yellowstone's seasonal bicycling page.