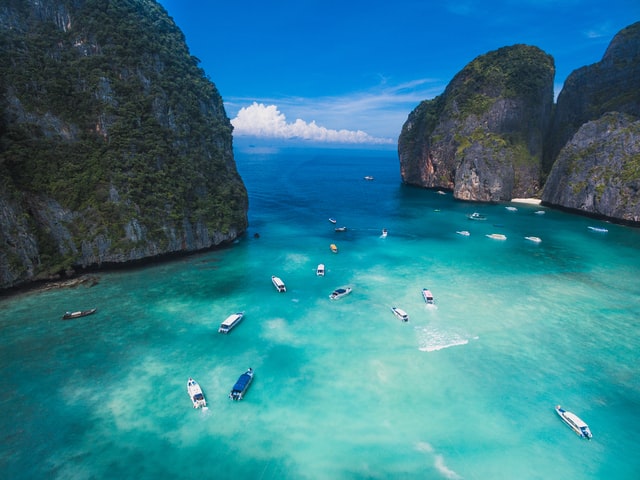 If you have never been to Thailand, you should get ready for such an adventure. This country offers more than you can imagine. Not only will you see gorgeous beaches and resorts, but you will also be able to enjoy tasty food. Thailand is the center of adventures that are popular for adrenaline seekers. If you have the same preferences, Thailand is the right location for you. The country is cheap compared to luxury places and you will also enjoy different activities.
Thailand Travel Tips
Traveling through Thailand is more than an exciting experience. Not only you will be able to reveal all beauties of the destination, but you will also enjoy the nature and tradition of the country. You can take your bicycle and explore the country including unknown places and new experiences. There are also many Thai traditional sports which are highly recommended to everyone. Mountain biking is very popular across the country and you can join many tours. For example, M.T. Hill Tours provide rides that last between several hours to the whole day, but you can also enjoy one of the most exciting tours occurring at night. Discover the city of Bangkok on a unique bike tour and take an opportunity to spend some time in the center. People traveling to Thailand can also take an opportunity to visit an elephant sanctuary. Visitors are also ready to volunteer at these valuable places instead of just spending a day. The Elephant Nature Foundation is held by Lek Chailert, who has also received an award for his hard work in saving the Asian elephants. The country is also known for The Elephant Nature Park, which shelters abused elephants. This Park is a shelter for 30+ elephants in Mae Taeng Valley. Volunteers have a significant role in the assistance to the center and they take care of feeding and overall maintenance.
Preparation for Your Adventure Trip
Preparations for the Thailand trip can be time-consuming, but you should focus on several important things. If you prepare for your biking tour, you are recommended to ride at least a few hours per week within the month before the tour. During the bike tour, you should be every day on a bike, so you must get prepared for that challenge. If you are not able to ride the bike or don't have one, you should get classes at the gym at least several times per week. The fitness level will affect your performance as well as the level of enjoyment. If you are getting ready for the hiking tour, you should run or jog at least a few hours every week before you plan the tour. It would be best to run or walk in your shoes and get the most out of the preparations. It will keep you protected from blisters including sore feet. Once again, the level of your strength will dictate how much you can enjoy the whole tour.
If you plan a multi-sport tour, you can do whatever you want before this trip. You can focus on biking and walking, as you cannot engage in other activities only for practicing. You don't need any experience for all of these, just an open mind and enthusiasm to try new things and have a good time. Be sure to check an itinerary and you will get an idea of the daily mileage. This will allow you to train accordingly. When preparing for high elevations, it would be best to get ready for symptoms and detect once they appear. You should be well hydrated from the start of the tour and fitness level will also contribute to the overall experience. There are many high elevation trips that offer a hassle-free first day to support people in acclimatization. You can use Ibuprofen and similar pain relievers to prevent headaches. Other side effects of tours are loss of appetite or lack of sleep.
Scuba Diving
Scuba diving is one of the most exciting sports in Thailand and you can take part in it. You can also participate in the same activity in the Surin Islands that have scuba diving sessions in the Richelieu rock. During the tour, you will see multiple whale sharks that are friendly and don't attack people. Scuba diving starts underwater and you can swim together with huge whales.
Rock Climbing
Rock Climbing is one of the most popular sports activities in Thailand. It is recommended both for starters and pro climbers. Newbies can also engage in rock climbing as some places in the country, such as Bangkok and Chiang Mai offer human-created walls which keep people trained for rock-climbing sessions. This activity is also great for adrenaline junkies and those who want to enjoy the beauties of the country.